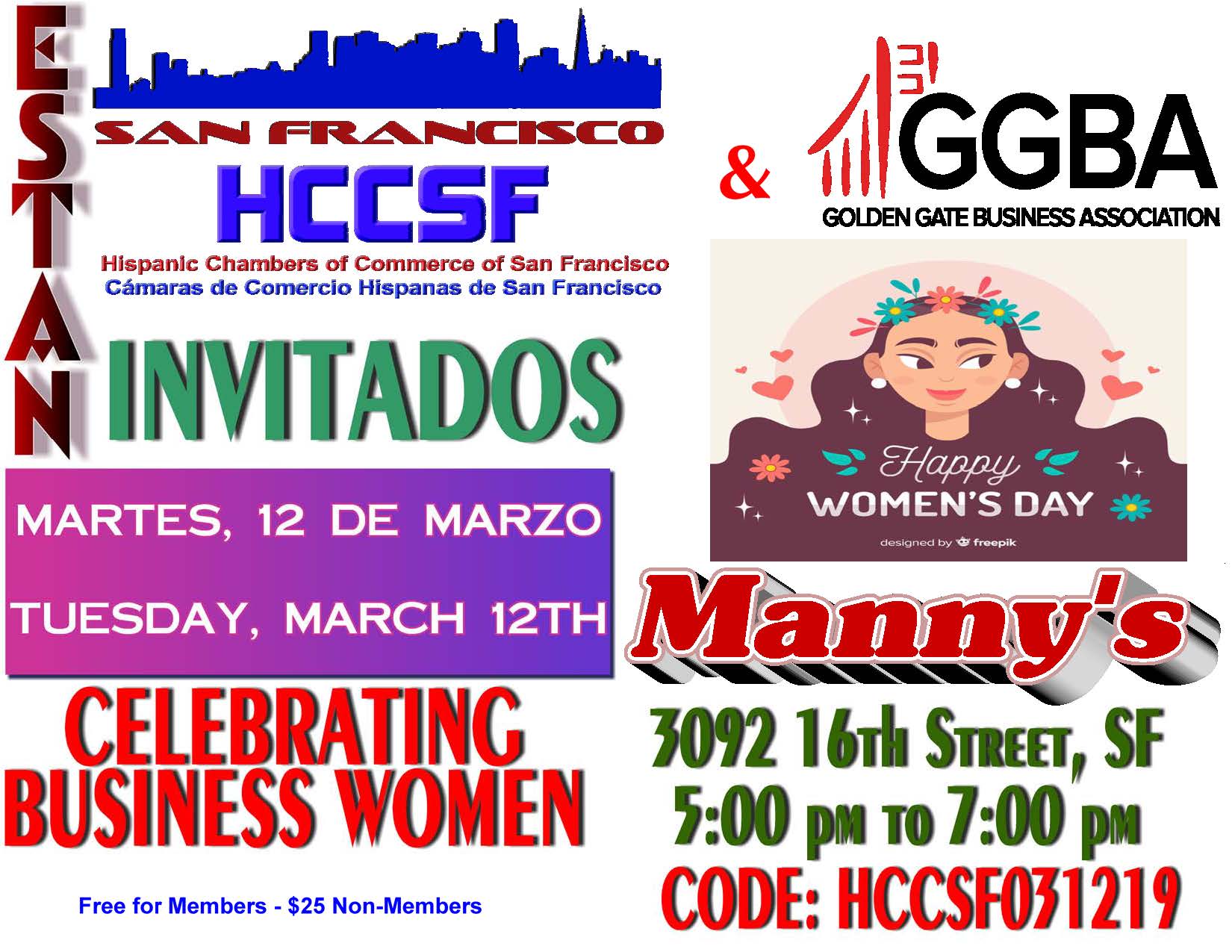 Event Description:
Come on out and Celebrate National Women's History Month at Manny's, with the Golden Gate Business Association and the Hispanic Chambers of Commerce of San Francisco. Stay Tuned for event updates and featured guests.
Host Location: Manny's: In an era where our conversations, our connections, and much of our civic discourse is happening digitally, we believe that we need to come together in person now more than ever.We've built a civic social gathering space in the heart of our San Francisco that combines a cafe, restaurant, civil rights themed bookstore, and a community gathering and programming space. Whether it's talks + Q&As with interesting change makers, program nights hosted by local non-profits, advocacy groups, or campaigns, book talks, town halls with local and national politicians, open mics, debates and elections watch parties, or just a place to watch the news with your friends and colleagues, there will always be some way at Manny's to plug in and get informed. At Manny's conversation is encouraged, open-mindedness is the only password, and how much money you have in your pocket will not affect the experience you have.
The Hispanic Chambers of Commerce of San Francisco (HCCSF) We are an organization of businesses whose mission main function is to advocate, promote and facilitate business in the San Francisco and Bay Area. HCCSF stands for promoting business and preserving the traditions of our community. We are an umbrella organization merging the efforts of four small ethnic chambers in the Bay Area. The Nicaraguan-American, Central-American, Guatemalan-American and Latin American & Caribbean chambers united to empower our membership by providing seminars, workshops, marketing, networking, legislative information and procurement opportunities to our membership.
The Golden Gate Business Association  Mission is to champion opportunity, development, and advocacy for their LGBTQ & Allied business community.They create opportunity for marketing, networking, procurement, and referral-based business growth; programs that support development of business skills and expertise through workshops and seminars; and they advocate for positive economic, social, and political change. They Advocate for positive economic, social, and political change, and they are the largest San Francisco Bay Area LGBTQ business advocate organization.